FORTE CLOUD furthers its regional expansion with a new Saudi Arabia office
FORTE CLOUD is pleased to announce its expansion in the MEA region by opening a new office in Saudi Arabia and will begin offering local businesses our full range of cloud services and solutions.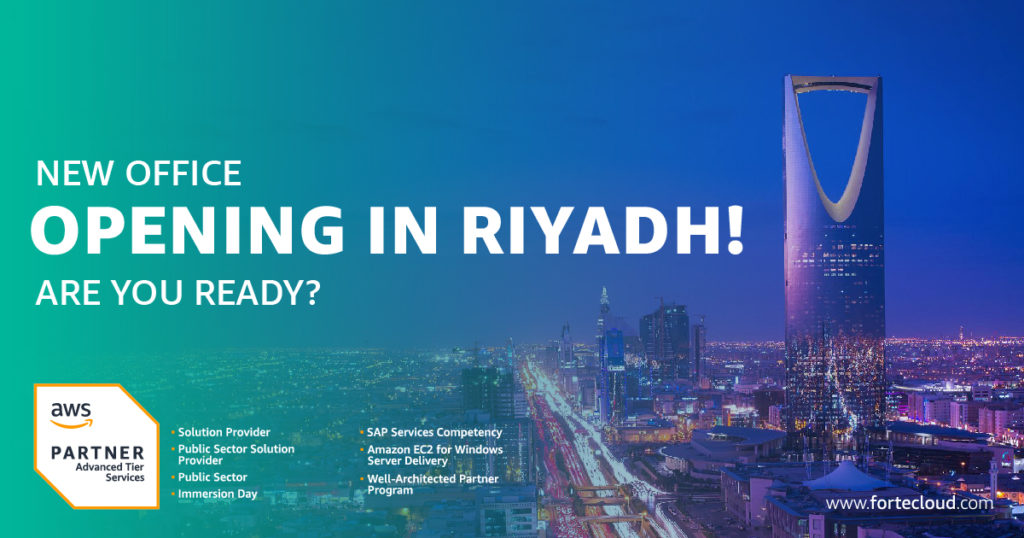 Established in 2014 in Cairo – Egypt, FORTE CLOUD became a prime Amazon Web Services (AWS) partner in Egypt with the biggest AWS market share, powered by a wide range of AWS competencies and programs.
This update comes less than a month after announcing our new office in Dubai – the United Arab Emirates, as part of our regional expansion plan for 2022 & 2023, with at least 2 more locations to be announced in the region during the coming 6 months.
Why Saudi Arabia?
With the increasing interest and demand in Saudi Arabia in cloud technology and digital transformation, and in-line with the Kingdom's Vision 2030, our aim is to play a major role in delivering governmental operational excellence, supporting digital transformation initiatives and projects, and enabling the private sector in their cloud innovation journey.
With this new office, we will be closer to our existing client base in Saudi Arabia, which will allow us to better serve and support them, and to be in proximity to our new prospects and lined projects that we are starting.
With this expansion, businesses can take full advantage of our cloud solutions and services, which includes but are not limited to:
Cloud consulting and assessment
Cloud deployment & migration services
Cloud managed services
DevOps, Microservices & DevSecOps
Machine Learning, Artificial Intelligence & Data Analytics
Internet of Things (IoT)
Cloud Infrastructure & Business Continuity


This expansion represents an exciting continuation of the development of FORTE CLOUD. We thank our valued clients for their continuous support, and we look forward to continuing to provide our services.